latest exhibitions
Himmel Bjerget
Danish for 'Mountain to Heaven': An exhibition of works from my artist residency at the International Ceramic Research Center in Denmark.
I describe Skælskør, the town I was based in, as a heavenly place - the natural coastline, the history, the people & the Danish culture.
My sculptures incorporate elements of my Australian identity along with Scandinavian environmental flavours. The Brisbane river features as carvings on some pieces and also icons from Denmark such as the wind turbines, the kroner, viking symbols and swans. I was challenged to work with new clay and materials and to adapt to unique processes in woodfiring.
This experience was made possible by Arts Queensland and the Lord Mayor's Young & Emerging Artist Fellowship.
Launch is in conjunction with Harmony Day celebrations.
Date:All of March & April 2010
Opening Night: Saturday 20th March 2010
11.30am - 1.30pm
Location:Brisbane Square Library
266 George Street
Brisbane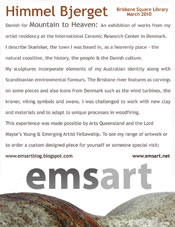 View the flyer.
Collective Sessions 2010
Date:
30th April - 5th May 2010
Time:
10am - 5pm daily
Location:
Circle Gallery
274 Montague Road,
West End
Brisbane
Artists:
Christopher Bailey, Em Trigg, David Gibbon, Rachael Humphreys, Melanie Halford, Leo Herreygers, Joanne Makamaka-Turuwhenua, Donna Melenewycz, Carolyn John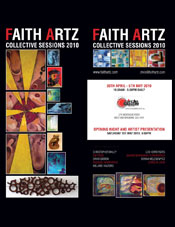 View the flyer.
BEYOND - Graduate Exhibition
Date:
9th - 13th June 2010
Opening:
6pm, Wednesday 9th June 2010
Location:
Southbank Institute of Technology
66 Ernest Street (E Block)
South Brisbane
Artists:
Em Trigg, Siv Slater, Therese Flynn-Clarke, Tobias, Eufalia Cristina Paz De Almeida, Sean Jackson, Kym Frame, Christiaan Moes, Jacki Nunn, Gregory Jessup, Laura Bailey, Jacqueline Edwardson, Rose Raikos

past exhibitions
Ceramic Journeys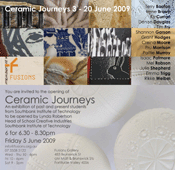 Date:
3rd - 20th June 2009
Location:
FUSIONS Gallery
483 Brunswick Street,
Fortitude Valley.
Artists: Terry Bouton, Irene Brown, Ky Curran, Denise Douglas, Tim Fry, Shannon Garson, Grant Hodges, Creina Moore, Pru Morrison, Pattie Murray, Isaac Patmore, Mel Robson, Julie Shepherd, Em Trigg, Rikke Weibel.
place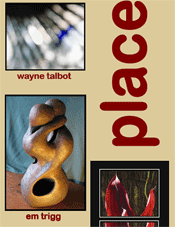 Date:
17th - 22nd October 2008
Location:
Art Factory Gallery,
South Brisbane.
Artists: Wayne Talbot, Em Trigg, Alan Olive, Maun Collins.
View the place exhibition microsite.
Vital Vessel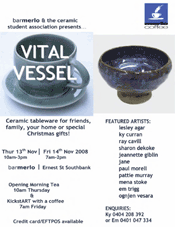 Date:
13-14th November 2008
Location:
barmerlo,
Ernest St, Southbank.
Artists:
Lesley Agar, Ky Curran, Ray Cavill, Sharon Dekoke, Jeannette Giblin, Jane, Em Trigg
(see flyer for full list)